Preparing For Surgery
If you have made the decision to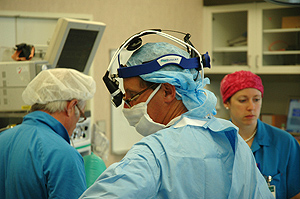 have surgery, you will need to discuss your medical history with Dr Nicholson so that he can plan the most appropriate treatment for you.

It is important that you disclose:
Any health problems

All medication you are taking including prescription, non prescription, herbal and alternative preparations

Allergies and reactions
Your medical history is treated as confidential information.
Admission Form
Dr Nicholson will provide patients with a hospital admission form, which should be taken to the relevant hospital as soon as possible (no later than a week prior to your admission date).
Please sign and have your signature witnessed on the Consent for Treatment section and then complete the pages that have To Be Completed By Patient written on the side of the page.
Please tear off the front page of the hospital form and keep for your information, taking note of the paragraph Pre-Admission.
Fees and Billing
You will receive an estimate of fees sheet from Dr Nicholson for your planned surgery.
You will also receive in the mail an estimate of fees from your anaesthetist who will be booked for your operation.
The hospital will contact you regarding your private health insurance (if applicable).
All patients are asked to complete payment prior to the date of their surgery.
Before Your Surgery
Contact your Health Fund to discuss the level of your cover for the particular procedure and check other related costs such as for the hospital stay and Anaesthetist

Discuss the fees and preparation for surgery with Dr Nicholson's rooms

You may need to stop taking blood thinning or anti-inflammatory drugs for 2 weeks before your operation. If you take Asprin, Warfarin, Plavix or other medication to help prevent blood clotting, seek the advice of the prescribing doctor before stopping them

Ask Dr Nicholson if you need to stop any of the prescription and non prescription medication, herbal and alternative preparations that you take

Patients should stop smoking at least 2 weeks before surgery. Smoking has been shown to increase the risks associated with surgery and anaesthetics and impairs healing

If Dr Nicholson prescribes you with any medications to be taken before your operation, please ensure that you complete the full course.
Fasting
Fasting (no food or fluids) before you have a general anaesthetic is essential.
For a morning operation please have nothing to eat or drink from midnight the night prior to your operation.
For an afternoon operation, you may have a light breakfast (tea & toast) before 7.30 a.m., then nothing to eat or drink after 7.30 a.m.
Or as otherwise instructed by Dr Nicholson.
After Your Surgery
If Dr Nicholson prescribes you with any medications to be taken after your operation, please ensure that you complete the full course.

You will be provided with any post operative care instructions specific to your procedure.

You may contact us during normal business hours to discuss any concerns you have after your surgery. If you have any concerns outside of our office opening time please contact the hospital where you had the operation and your queries will be forwarded to Dr Nicholson.
*These notes are an outline only and should be expanded on in discussion with Dr Nicholson.